Getting rid of suggestions taking priority over URL bar?
In previous versions of opera, I often did the following: go to the address bar, type "www.red", and then the address would be completed to a subreddit I often visit (so I get a completion of the form www.reddit.com/r/...). I would see that, press enter and go to the subreddit.
But recently, there is a quite jarring behavior. I type "www.red", and the address is still completed to the subreddit. But below the address bar, there is a "suggestion" for a promoted website. And when I press enter, I go to that site instead of the subreddit.
This screenshot shows the situation: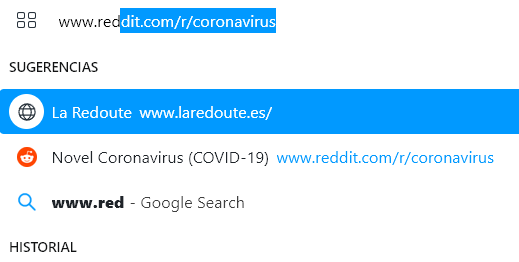 I get that they need to promote things to make a living and I'm OK with that, but isn't this a bug, in the sense that pressing enter should take me to the address in the address bar? Is there any way to disable this behavior?
If the promoted website appeared in the URL bar then I wouldn't prese enter, but it's a bit shady for me to be looking at the URL bar, see the correct website I want to visit there, press enter and be taken somewhere else. I hope it can be disabled or they fix it.