Opera 55. Getting rid of that ugly CSD
Goodmorning everyone.
I wanted my first thread here to include problems that I have been facing since I first switched to chromium based opera, but the upgrade to opera 55 brought csd (= cliend side decorations), and it is so ugly that I have to make a thread about it.
Because 1 picture is worth 1000 words, let me post some pictures first so as to let you know how things look on my system at least
Opera 55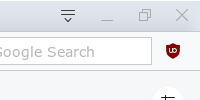 Chromium 68
Firefox 61
I think you can tell the difference between that gorgeous, minimalistic numix theme I have for my window manager and that fat, ugly, w10-like csd of opera which was introduced on v55.
So, can csd be disabled by some flag or some command line switch?
Debian testing x64 and openbox as window manager. Firefox and chromium are both set to "use the system title bar and borders".